Towing
Don't let the unpleasant outcome of a sudden blowout or a broken axle leave you stranded. Our tow services are as convenient as they are essential to any motorist on the road. Keep our contact information in your glove box for any number of unforeseen hazards.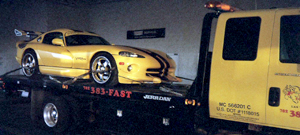 Towing: Auto / Vans / RVs / SUVs / Trucks / Motor Homes

Accidental Removal Assistance
Illegally-Parked Car Removal / Unauthorized Vehicle Removal
Private Property Tow-Away Service
Computerized Dispatching / Honest Phone Quotes /Prompt Arrival
Lockouts / Jump-Starts / Tire Changes
Wrecker or Flatbed Service (Can Take Up to Five Passengers)
Parking-Lot Enforcement
Wheel Lifts / Roll-Back Service / Winching (Up to Five Tons)
And More!
Call Us Today At ♦ (702) 383-3278

FAST TOWING!

2201 N. Commerce St.
Las Vegas, NV 89102
Fax:
702-383-9513
Fast Towing has been serving Las Vegas since 2002 and is one of the largest and most respected towing companies in town!